Looking very forward to the premiere of my piece "Flimmer/Respons", which was a commission by the flutist player Pia Marei Hauser.
The premiere will take place on friday, september, 16th, at the St. Ludger church in Duisburg, among other pieces by Heinz Holliger, Ian Clarke, Bojidar Spassov, Salvatore Sciarrino and Thorsten Töpp, all performed and presented by Pia Marei Hauser.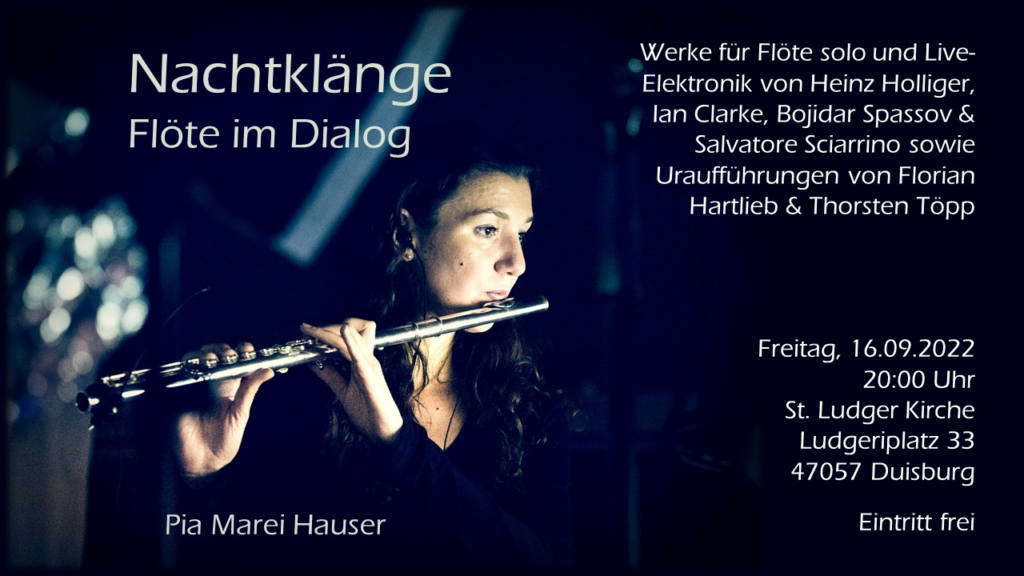 About the piece:
The piece Flimmer/Respons (for solo instrument and 4-channel live electronics) attempts to transform the inherent sound of the architectural space into musical material, thereby enabling a dialogue between the musician and the space.
With the help of a software instrument designed for this purpose, the sound events in the room are fed into an endless, repetitive recording process in order to repeatedly generate the acoustic characteristics of the room, i.e. the so-called resonance flickering, and to alienate them using various parameters in the software instrument. In addition, zones defined in the graphic score allow the musician to dynamically change positions in the room in order to explore the spatial sound not only electro-acoustically, but also purely acoustically.
In this way, there is a permanent fusion of current and past sounds, which take on different aesthetics depending on the spatial situation and thus generate a transformative, auditory memory process.